Science Week Home Learning Challenge
Can you make the ultimate paper spinner?
This week our whole school science focus has been learning how to make successful paper spinners. We have talked about the two forces which make the spinners work; gravity and air resistance.
Your challenge is to continue this investigation at home to find out how you can make a paper spinner spin in the air for as long as possible.
You can create your own spinner by cutting into any rectangle like this.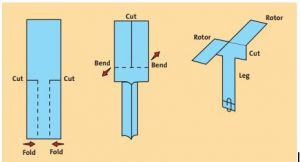 Here is a simple 'how to' video from YouTube  'wekids paper helicopter spinners'
You can also download a paper template here if you wish Paper-Helicopter-Template
Think about what you could change to improve the spinner (the variables). Consider the size, shape and materials used.
Remember that when scientists carry out a science experiment they only test one variable at a time – this is called fair testing.
You can present your findings in any way you wish! Some suggestions are:
Make a poster

Make a film

Use an app like Book Creator or PicCollage

Take photographs and label them

Write a report

Draw a cartoon strip

Create a graph

Write a letter to your teacher to explain what you did

Write and perform a song!
You can work on your own, with friends, with your brothers and sisters or with your family.
If you would like to take part you have until Friday 9th March to bring your results back to school.
Good luck!
The science bit!
The shape of the helicopter rotor blades make it spin when dropped from a height. Gravity pulls the helicopter down. The air resists the movement and pushes up each rotor separately, causing the helicopter to spin.