Book Week 2018
Please keep reading for information on the Readathon, dressing up day and book sale!

Once again we are going to take part in Read for Good's sponsored read which has a long track record of encouraging students to read for fun. Pupils choose what they want to read, and the money they raise, as well as providing them with fantastic motivation, enables Read for Good to provide a regular supply of brand new books and storyteller visits to children in hospital all over the UK.
Research shows again and again that young people who regularly choose to read are more likely to do well in exams, and throughout their lives. Read for Good's sponsored read helps to establish and reinforce these good habits and enables pupils to discover which books, authors and genres they enjoy the most.
As well as raising money for charity, we will receive 20% of the overall sponsorship total to use to buy new books for the school, so please do get involved by clicking the link above. Friends and family can also use this link – just forward these details to them.
Collecting sponsorship could not be easier, because as well as sending cash or cheques into the school office, it is also possible to pay online. Click on this link to sponsor a pupil: http://readathon.force.com/sponsor?accountId=&type=sponsorship
Please encourage your child as much as possible by supporting their reading. They could choose a way to challenge themselves e.g.
How many books can they read during the week?

How many different kinds of reading material can they read? e.g. story, non-fiction, encyclopedia, recipe, poetry, audio book, ebook, magazine etc

How many minutes can they read during the week?

How many pages can they read in the week?
For more information on the work of Read for Good, click here http://readforgood.org/.
Children will bring home sponsorship cards next week. The Readathon will run for one week beginning on Monday 5th February. Please then return forms and cash/cheques to school before Half Term if possible. 
Dressing Up Day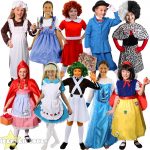 To celebrate the end of book week, we are inviting children to come to school dressed up as a character from a book on Friday 9th February.
Children in Years 5 and 6 may prefer to bring in a prop from their favourite book which will be used for various games and activities in class.
Book Sale – Friday 9th February
Once again we shall be holding a second hand children's book sale in the hall. All money raised will be used to buy new books for the school.
Please bring book donations into school anytime during Book Week and leave by the swimming pool.
Children will be able to buy 1 or 2 books for 50p each during the morning. Any remaining books will be sold at lunchtime.
We are looking for adult helpers to run the sale, so if you can help for some or all of the morning please speak to Miss Horsepool or let the office know.